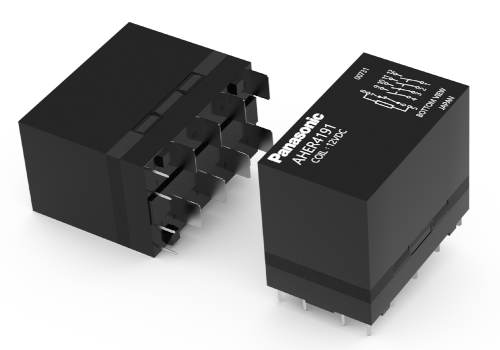 Called HE-R, the  35 x 58 x 47mm Relay has four normally-open contacts (relay class 4a) that can switch up to 40A at an ambient temperature of +85°C.
An optional normally-closed contact (relay class 4a1b) is available for feedback (a so-called 'mirror contact'), and can switch 1A as well as operate low level loads down to 10mA 5Vdc.
"Because of its outstanding ratio of size, power and robustness, the IEC62955 compliant HE-R relay is the perfect choice for contemporary and demanding AC/DC wall box designs", claimed Panasonic Europe's Panagiotis Venardos. "HE-R might not only be interesting for domestic wall boxes, but also for AC or DC charging stations and other fields of application, such as industrial automation or energy harvesting."
Short Circuit capability is VDE-certified according to IEC 62955 (In ≤32A), clearance and creepage is greater than 8mm and minimum contact gap is 3.6mm.
Max switching voltage is 480Vac on the power contacts and 277Vac, 30Vdc on the optional signal contact.
Minimum life is 3×104 operations at 40A 480Vac or 5×104 at 32A 277Vac.
Nominal coil operating power is 4W, and five coil voltage options are available: 6 (667mA), 9 (444mA), 12 (333.A), 24 (167mA) or 48V (83mA). Coil holding power is 490mW.
The HE-R relay product page is here